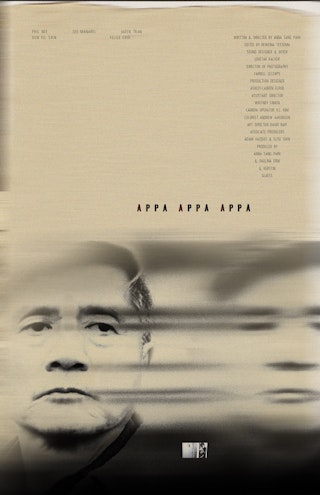 Appa Appa Appa (Writer/Director/Producer)
Appa Appa Appa (Writer/Director/Producer)
Appa Appa Appa
Struggling to raise his children after his wife's death, Mr. Cho, a Korean immigrant, works two jobs back to back. With barely enough money to feed his family, his problems deepen when his wife's gambling debt returns to haunt him.
Written & Directed by Anna Sang Park

Phil Nee- Mr. Cho

Zoe Manarel - Myung-Ah
Jaden Tran - Insu
Yoon Kil Shin - Mr. Kang
Felice Choi - Mrs. Oh


Appa Appa Appa is part of the Cho family trilogy films.
Link: THE CHO STORIES


Awards:
VTeddy Audience Award - Middlebury New Filmmakers Festival -2021
Honorable Mention Short Narrative Film Award - Bushwick Film Festival - 2021
Best Short Over 10 Mins - Peekskill Film Festival - 2021
Best Director Student Film - Loudoun Arts Film Festival - 2021
Nominations:
Best Drama, Short Film - NEWFILMMAKERS LA - 2022
Best Director - Peekskill Film Festival - 2021
Best Performance - Exit 6 Film Festival - 2021 Phil Nee for his role Appa/Mr.Cho
Best Student Film - Loudoun Arts Film Festival - 2021
Official Selection Bushwick Film Festival - 2021
Official Selection Peekskill Film Festival - 2021
Official Selection Loudoun Arts Film Festival - 2021
Official Selection Exit 6 Film Festival - 2021
Official Selection Omaha Film Festival - 2022
Official Selection Beeston Film Festival -2022

Official Selection Catalyst International Film Festival - 2022